---
South West: Recent Developments (2000)
So what's been happening in the South West over the past year or so? Well, it rained a lot but, fret ye not, this didn't stop new route activity.
The most significant development has been that of "Cave" Quarry (renamed as the venue is officially banned!), a large slab-meister venue to the North of Tiverton. This has been comprehensively dealt with by "FunkY Seaman Ying", with a little help from "Lian Grunt" (Please note the names have been changed to protect the innocent, well, guilty actually!) and a North Devon support team. For difficulty Spot The Ball stands out at a proposed E8 6c grade. This line is protected by self-drilled 8mm bolts, which are not entirely above suspicion and are well spaced…nice! There is now a total of about 15 routes ranging from E3 to E8 and as long as you don't get caught visiting (so far no problems have been reported) this is now a very worthwhile. Most of the lines here were climbing towards the end of 1999…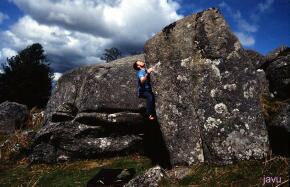 The first action in 2000 took place on Dartmoor, on the surprisingly overlooked collection of boulders at Black Hill (nr Haytor). Here a handful of new problems (easy to V5 6b/c) were climbed by keen Dartmoor explorers Ben Rowe (he's got another good venue on the go) and Dave Henderson, to produce another quality Dartmoor bouldering area.
Rowe's Arete V5 6b/c (above) is a must do tick - it's probably the hardest problem there and contender for the best (?)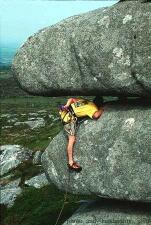 Moving down to Bodmin Moor the first action was at Trewortha Tor. Ben Rowe and Nick Dill had already made a handful of additions since the Cheesewring and SE Cornwall Guide, notably Ben's Trewellard E5 with its awesome rounded finish. In May 2000 Merlin followed at about E6/7. According to the first asceentionist "This line is one of the most memorable I've climbed and provides very strange climbing, the crux revolves around getting into, and then back out of a horrendously sloping break- some would describe it as unpleasant, and they'd be right but it is a superb sort of unpleasant! A big problem was picking a grade… if you're going for the onsight take care, it's not your average route and take some large cams!"
The summer saw plenty of Deep Water Soloing activity, mostly in the form of repeats. Crocker's MC Navigator XS 6b received a handful of ascents during Devon's Deep Water Solo Festival, but most importantly Ken Palmer "deep water" soloed Losing My Religion XS 6c (Fr7c) (originally Fr7b+, now 7c after the demise of the crux hold!) in the blow-hole cave at Long Quarry Point. This cave now provides 2 of the hardest deep water solo's in the Shire, the other being Waiting For Charlie at XS 6b Fr7c. Just around the corner from Long Quarry Point, The Sanctuary Wall yielded another route. Essentially a variation start to Gus Honeybun, Dead Rabbit E7 6b provides interesting climbing with some suspect rock and gear thanks to some local punter - take some Skyhooks!
Whilst in the area I cannot fail to mention Steve McClure's repeat of Poppy at Anstey's. This route, first climbed and given 8b by Ken Palmer in 1994, is now reckoned to be more like 8b+…there's a surprise! Which reminds me; Ken Palmer made the second ascent of Pre-Marital Tension at Cribba Head (Cornwall). This follows Ken's second ascent of Question Mark (given E9 by Mark Edwards, Ken felt it more like E8 - more ascents are needed to get a consensus!). Ken described Pre-Marital as being more of a psychologically hard route than Question Mark as the climbing is of a more precarious, delicate nature. Ken eventually led the route using four tied-down Skyhooks (placed on the lead, then down climbing to the ground to tie them down) just as it was starting to rain! (Ken decided he had to do it on that trip as he had a full support team with him - Doctor, photographer (Nick Hancock) and trustworthy belayer (Simon Blagdon).
Towards the end of the summer Funky Simon Young, in preparation for a Gritstone season, went to Northcott to find something bold and scary... the result was Giddy E7 6b, a good sounding route above a not so good sounding landing (depending on beach level)! If unprotected technical wall stuff is your bag then this is probably worth a look - it waits a second ascent (later repeated by Dave H). Also on the North Coast, and around the same time Dave Pickford went to Sharpnose where he bagged the second ascent of Mark Edwards' The Monk's Satanic Verses E8 6c. This is now reckoned to be alright for the E8 grade as there is gear that would stop you if you fell of the crux section, and above there the climbing is supposed to be "alright". Still only had 2 ascents though!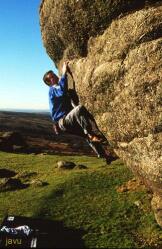 Before I finish this somewhat brief skim of recent developments I must mention Gold, a boulder problem traverse of Saddle Tor (Dartmoor) which encompasses most of the existing problems. Lying somewhere in the V10 - 11 range this is a strong contender for The Moor hardest traverse.
Lets hope this Foot and Mouth sorts itself out so we can make some news for this year!
Cheers
Dave Henderson
---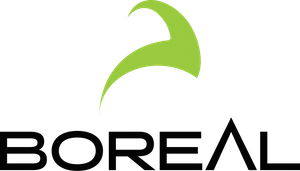 Thanks to Boreal for supporting the site!
Copyright 2000-2017 © ...javu/Dave Henderson javu info
This file last modified (none)